9 Natural Home-Remedy Super-Drinks To Try
Whether it's flu or self-induced, there's a super-drink to sort you out. There are just tonnes of tips and hints on the web to sink your teeth into but it can be a bit of a wormhole so here are 9 of our favourite home-remedy super-drinks to get you started. We've also included a special section for nail, hair and skin health, your nails really can signal a lot about your health, for instance brittle nails can indicate zinc and iron deficiency, but don't worry, we've got plenty of juicy drinks to sort you out! We hope you enjoy them!
For General Health:
1. Green Tea
Green tea is probably the healthiest drink you'll ever come across, it is just chock full of nutrients and antioxidants. It supposedly helps with fat loss, improving of brain function, lowering your risk of cancer … the list goes on. We can't attest to any of these effects but it certainly makes for happy skin, hair and nails. If you don't like green tea it's almost definitely because you have been over-brewing it! To avoid the bitterness that comes with over-brewing you need to follow some simple steps: pour your boiling water into your mug and leave for 1 minute before adding your leaves or bag, let the tea steep for 2 minutes ONLY and then remove, you should have a perfect cup of green tea. No bitterness.
2. Watermelon Juice
Already heavy water content you don't need to add anything to your big old juicy watermelon, literally just blend it and you have an amazing pro-immunity drink. The magnesium and zinc naturally occurring in watermelon mean that this juice will not only give your immune system a big boost but it can also relieve muscle soreness and fatigue and some flu symptoms!
3. Carrot, Apple and Orange Juice
Great for fighting off a cold as it's packed with vitamins, potassium and folic acid. Plus it tastes like Summer, I absolutely love starting my day with one of these. For a super lovely and easy to make recipe, I recommend following this link to Caroline's blog where she shares a special recipe she and her Mum came up with.
For A Hangover:
Sometimes, guiltily, we all need a hangover cure. Here are our favourites to get you up on your feet again:
4. Mint Tea
Get some fresh mint, crush it up, add hot water. Magic. Mint is great for soothing nausea, heartburn and indigestion. It cures all sorts of stomach in-balances by neutralising stomach acid with it's alkaline properties, so if you're prone to a particularly queasy kind of hangover then mint tea will certainly sort you out.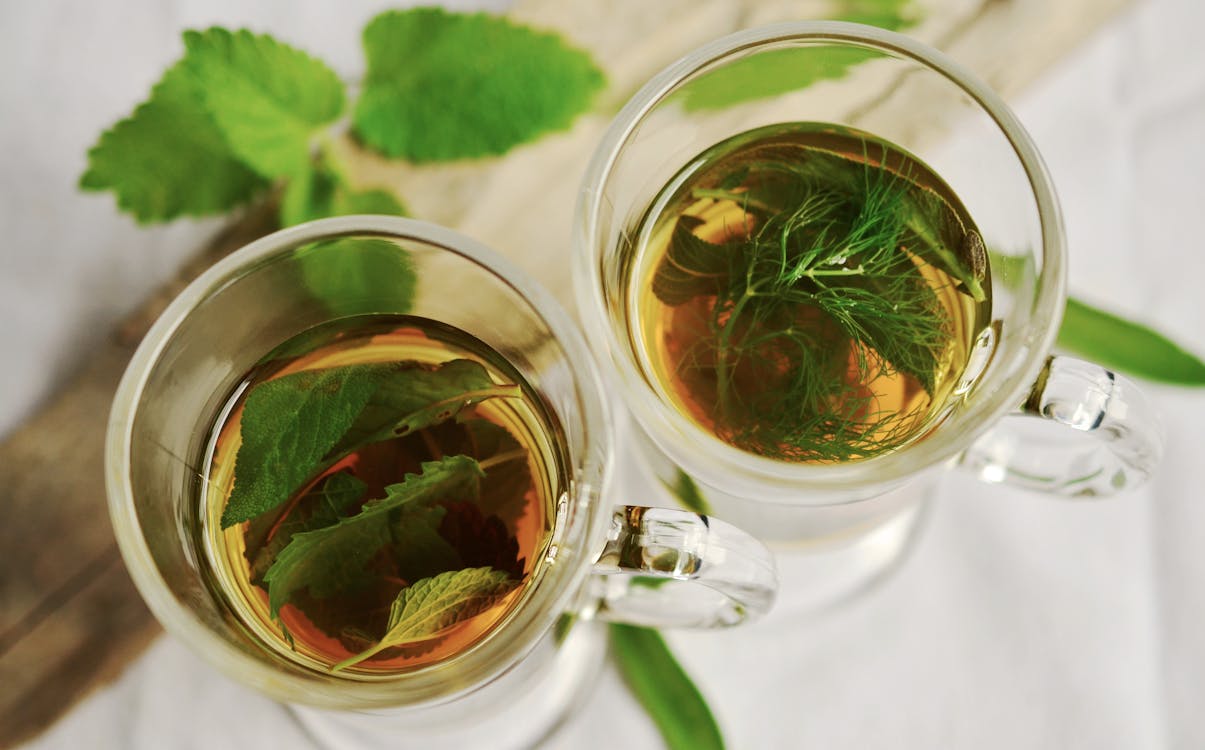 5. Antioxidant Smoothie
This is particularly good for reducing the bad effects of alcohol indulgence. The best ingredients to wham in your antioxidant smoothie are berries, spinach, ginger and even dark chocolate. Antioxidant like literally clean up your body, and generally they are super tasty as well. Here are 5 gorgeous recipes to get you started.
6. Tomato Juice
Want glowing skin, a healthy heart and not to break the bank? Make your own tomato juice. Literally just stick a load of tomatoes in the oven to slow roast while your doing other things, when they are nice and tender either stick them in you juicer or just drain them through a sieve, whack the pulp into a saucepan with a couple of cups of water and a squeeze of lemon (I also like to add just a splash of lemon) and gently heat to combine. Then, tadah, a beautiful tomato juice with zero chemical additives and tonnes of brilliant iron, folate and vitamins A and C!
For Healthy Nails, Hair and Skin:
7. Kale Smoothie
Yep, you were all waiting for it, but really kale is sooo good for you! The list of vitamins and minerals you'll get a benefit from by eating (or drinking) kale is way too long to include in this short blog post. Basically kale is high in beta-carotene which is a nutrient that facilitates the healthy growth of all bodily tissues, nails, hair and skin included. It is a magical dark green leaf to make you healthy and gorgeous. If you need some inspiration to make it taste a little more attractive, here is a recipe from BBC Good Food.
8. Golden Milk
This is such a delicious treat, it only takes 5 minutes to make and it's also vegan! All you need to do is gently heat a cup of coconut milk, one of almond milk, and a teaspoon each of turmeric, ginger and honey, and you have this amazing, warming health drink. Brilliant for rheumatoid arthritis as turmeric and ginger have anti-inflammatory effects, this also works for various skin conditions including reducing redness and helping your skin to repair itself quicker. Ginger has also been known to encourage hair growth and volume!
9. Cucumber Water
No kidding, just slice some cucumber and add it to your 3 daily pints of water…yes, you need to drink at least 3 pints of water every day. Trust us, it will do wonders for your entire body not to mention the anti-aging effects it will have on your skin and hair. Anyway, cucumbers, they are a good source of fibre which means they will help to strengthen your nails and hair and generally make them look healthier and shinier.
---
We hope you enjoy trying out these different recipes and would love to hear about your experiences with them, or if you'd like to recommend some for us please do come on down and have a chat! Check out our other articles for more handy tips like this! Also, treat your new super healthy nails to a beautiful nourishing manicure, you're worth it!